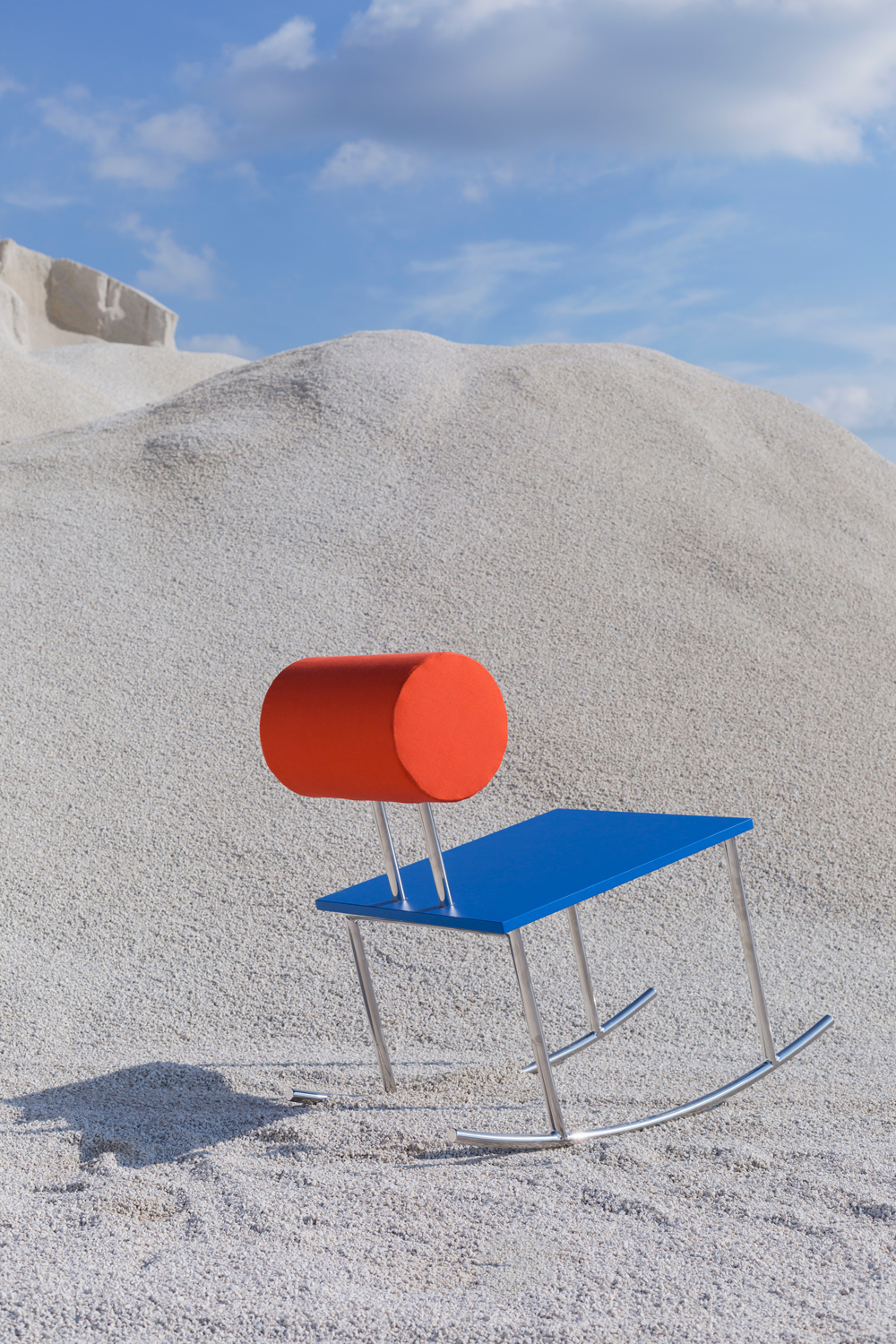 Photo: Aliz Veronika Acs

'Collezione L!PUFF' is inspired by minimalism and postmodern design. After its introduction in the Paris Design Week 2017, the whole collection is showcased in the Budapest Design Week and in 2020 had its
London Debut
at the newply-opened art hub:
Cromwell Place
.
Individual pieces of 'Collezione L!PUFF' are all handmade, unique design items. Bright colors and diverse textures merge in balanced harmony in the form of the pieces taking minimalist shapes. The two leading colours of the collection are vivid bright red and cobalt blue.
The pieces of the collection produced with sustainability in mind are constructed from local, Hungarian materials, mostly from the area of Sümeg and Tapolca with the help of local craftsmen. The young designer used white cast cement as the base of her furniture, and softened their rigour and monumentality with colorful glass details. With the combination of minimalist concrete panels, stainless steel, textile and blockboard unique, contemporary pieces emerged. The cast, unpolished cement sourced from the local quarry of Sáska provides a rustic, natural effect. Interestingly, the lookbook images of the collection were also shot at the same quarry, calling attention to the importance of utilizing local sources and techniques of production.
The first piece of the collection consisting of 5 items has been modeled after the design of a previously produced concrete chair. The piece constructed of grey cement and recycled rubber found its place in the iconic Telep, the contemporary cultural hub, bar, gallery and workshop space located in the central cultural district of Budapest for years. The second main item of the collection is a monumental circle-shaped mirror towering over the other pieces and standing firmly on top of a pedestal-like rectangular column. The easiest and sweetest piece of the collection is the charming rocking chair ensuring super safe swaying hence being constructed on a stainless steel frame. The cylindric shape of the seat back bears the characteristics of postmodern design both in shape and color. The main items of the collection are complemented by a smaller stool and a table. Differently sized wooden blockboards form recurring structures in a playful rhythm in case of the table. The pieces of the collection utilize a simpler, modern method of clasping than the regular used in the furniture industry. Steel pipes are attached to punctures created during the casting process of the concrete panels, which fasten the other elements as well.